MOM
OCTOBER 2023
AIDAN LINK-FREEMAN
'i think i'm missing the point'
SEPTEMBER 29TH - OCTOBER 22ND

EXHIBITION CATALOGUE COMING SOON
MOM presents 'i think i'm missing the point' a debut solo exhibition by Aidan Link-Freeman
Aidan is a multi media artist who works with the relationship between the written word and painting in an attempt to obscure and reveal understanding of consciousness and the physical environment.
At the cafe a man in his 30's is reading Jack Kerouacs On the Road
I am doom scrolling an instagram page titled DailyDoseOfCringe
We are one in the same
I am afraid to get my tarot read
the same way I'm afraid to go to the doctors
Despite my ibs
True love will have to guide me
If I'm missing the point please let me know
-----------------------------------------------------------------------------------------------------------------------------------------------------------------------------------------------------------
SEPTEMEBER 2023
JACK SUMMERS
'Wasn't Me'
SEPTEMBER 1ST - SEPTEMBER 24

EXHIBITION CATALOGUE ︎︎︎ (DOWONLOAD NOW)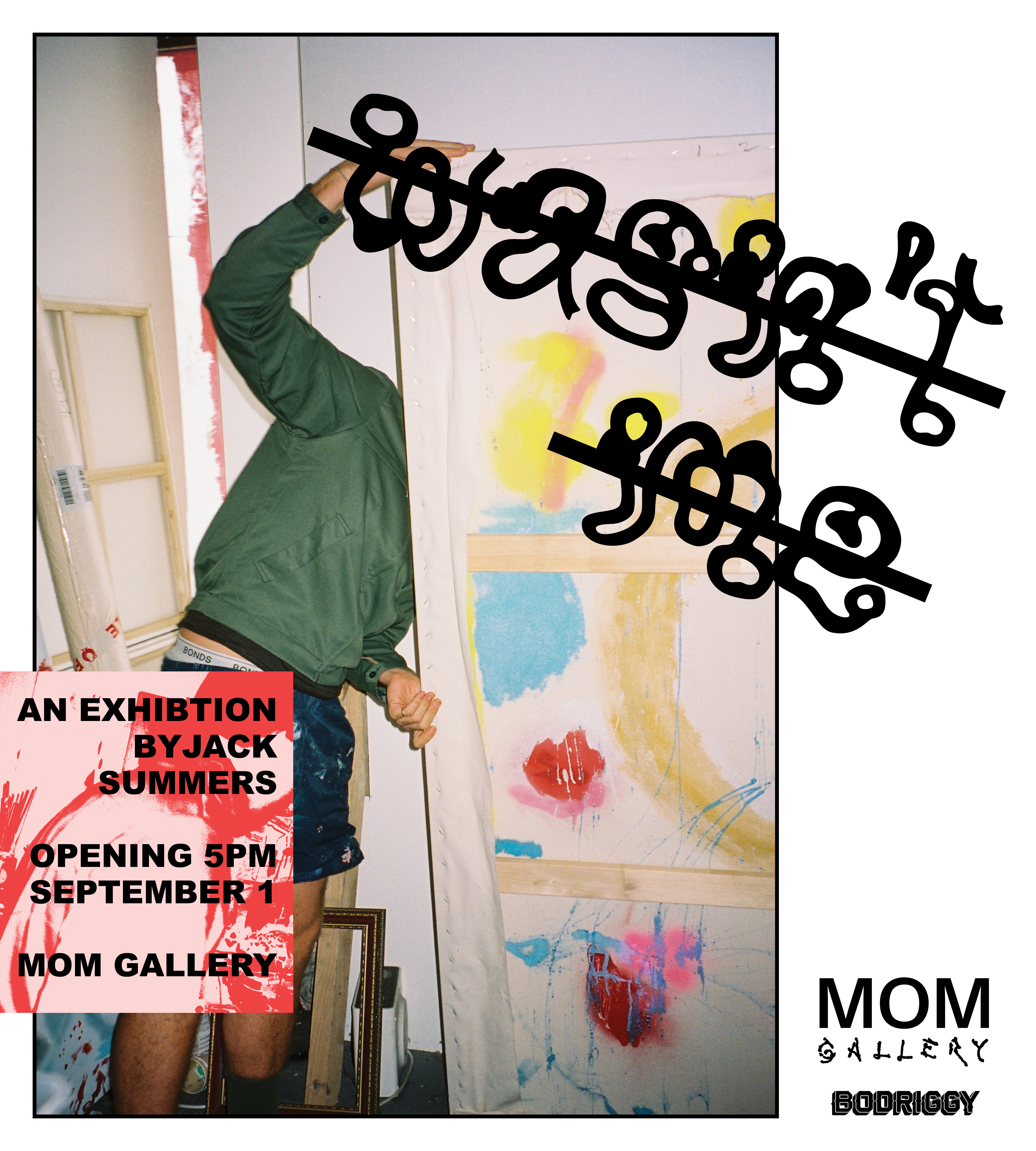 MOM Gallery presents 'Wasn't Me', a solo exhibition of paintings by Melbourne based artist Jack Summers.

In the exhibition, Summers' paintings are the final product of a relationship between painting mediums and the collective and personal unconscious. The artist works with meditation, dreaming, movement, flow and symbology in order to create a series of works that do not solely feel like his own doing.

I think of gardening together
Trying to pry oxalis from the ground without breaking their delicate clusters
of tiny chickpea-sized bulbs.
But they would always snap
And we knew that even if we extracted thousands of them, all their dormant children waited to sprout again.
An eruption of yellow laughter, from their foamy carpet of goats feet.
Bermuda Buttercup
a will o' the wisp, in the shadow of the sea,
We spoke of dreams.
Crouched beneath maples, recalling the hazy week of visions.
Trying to reconstruct the glisten of night dew, into a clear prism, as to split darkness, into the colour of day.
Or the other way round.
Or somewhere in between,
a pure volcanic glass, of dark rainbow obsidian
knocked over by mistake, spilling all that Self into self, or the entire circumference of time into a moment of space
*
Reminds me of that sludge in the well we used to play in.
That game,
Where you conceal your head from your body and then forget where you buried it.
propagating and multiplying.
Like those weeds.
thousands of pure silica spheres, compressed atop one another, endlessly refracting light into the most brilliant of opalescent hues, without a grain of pigment
It's the same as the colours bleeding through the raw cotton,
There were a lot of wells, we got lost in -pores in the skin - but that was the point right?
You get the muck, and its Rorschach stains, and our imprisoned associations. And his free radicals,
And hold the unbearable mystery beneath the magic of its laughing flowers.
And in company, you inhabit the rubble of broken buildings
and monasteries,
or a hospital bed, or that train that foretold it all.
And then you remember,
(You've always been gifted at that)
and the deluge evens out into a blossoming wetland.
of tiny yellow oxalis
- text by Adam Gottlieb
-----------------------------------------------------------------------------------------------------------------------------------------------------------------------------------------------------------
AUGUST 2023
JIM MCCULLOUGH
'In Your Dreams'
JULY 29 - AUGUST 28

EXHIBITION CATALOGUE ︎︎︎ (DOWONLOAD NOW)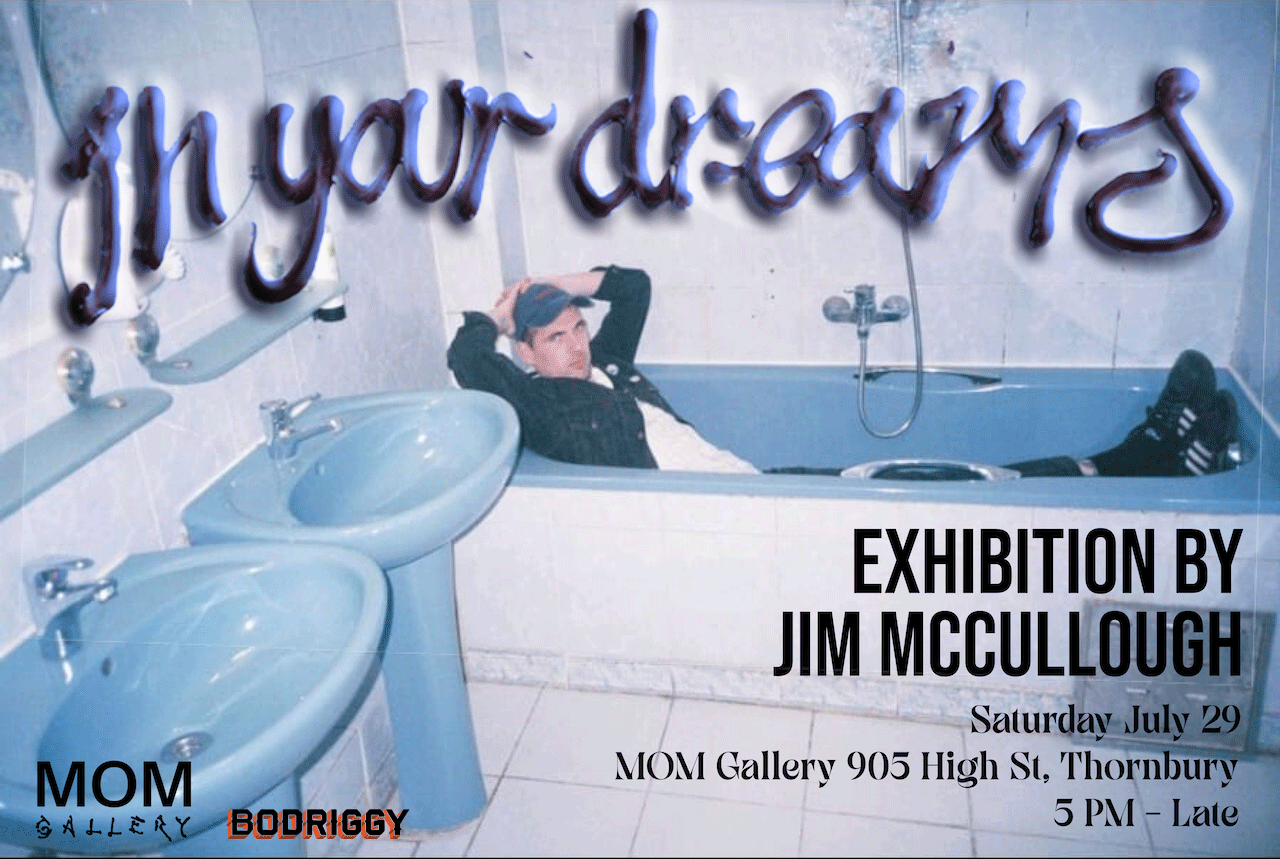 MOM Gallery is pleased to present In Your Dreams, an exhibition of new paintings by Melbourne-based artist Jim McCullough.

In his paintings, drawings and writing, McCullough approaches concepts of life and death, grief, dreams and fantasy.

As an undertaker for 5 years in his younger life, McCullough has his own perspectives on such matters, a somewhat realistic view of life after death, or at least in the physical world.

'It's hard not to think about how the scene played out leading up to these unfortunate events; how it all went down. I do always remember what it smelt like on those nights. If it was raining, or if it was cold. I always remembered aspects from the scenes once I arrived too. The patterns on the curtains, the stained pillow, the painting of three ducks flying"

McCullough's past bodies of work, such as "Therapeutic Values" drew from a more abstract approach, working strictly in with movement and color in a celebration of existence. McCullough's last notable body of work "Glue factory" seeked to enter a more pictorial world of painting, bringing in figures, objects and subject matter. We see this new found style of McCulloughs painting continue in "In your dreams" with a refreshed style of application of paint to canvas.

"I wanted to start staining the canvas. Use rags, and pigment. It's been a challenge, and sometimes hard to get right, but it's a nice way to work"

Some of McCullough's paintings from the body of work were created in lockdown, a time he was able to reflect on past visions and feelings. He touches on aspects of solitude, lonely characters living in their homes, forgotten by the world.

Even though there are elements of sadness to McCulloughs work there is also an element of beauty and fantasy in his paintings. 'A Dance With Time' shows the memory of a lady with her late husband dancing in their youth.

'In Your Dreams' invites you into a world of unfamiliar bedrooms, into back seats of speeding cars and neon ballrooms in the sky, all characterized by unknown figures going about their lives whilst unwillingly or willingly at their end.